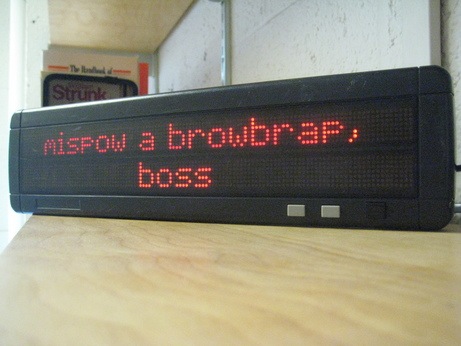 Here's the latest iteration of Nick Montfort's ppg256 series, an ever-growing set of succinct poetry generators written in Perl. This one happens to be programmed to output to an LED sign, which is currently installed at Axiom (a Boston-area gallery for new and experimental media).
I would love to see how the piece looks and works in the context of a gallery. But more than anything I'd like to see some video: how the code manages the style and movement of the text can't be anything but vital to the understanding of the piece.
Check out the thread at netpoetic for more photos and some interesting discussion.
In the most recent entries to the ppg256 series, Nick has started to explore the generation not just of abstract poetic form, but other speech genres as well: ppg256-3 generated tiny narratives ("the__bothat and one__orcman cut_out"), while ppg256-4 generates absurd imperatives ("delap the dappap, boss"). Like the other entries in the ppg256 series, ppg256-4 one is concerned with constructing plausible English words from minimalist parts; unlike the others, ppg256-4 is okay with (and even seems to revel in) neologism.
I've embedded some of the output of the (non-LED version) of ppg256-4 after the jump, in order to give a bit better sense of the program's flavor.
detrow a trotfot, guy
debray a matwag, man
bepap on lipbot, guy
beflot a braybay, vato
delap the dappap, guy
premow that tronflow, dogg
mismad the pipwap, dogg
premap on bratlip, dogg
delag that bratlad, dogg
misdap that bapbray, pal
mislot a baypip, guy
depad on lotday, dogg
mislon on liplay, guy
debot a datflon, dude
presag on dattrat, dogg
bebrad the flottrat, bro
misfot the paylow, buddy
depag that mowtrat, man
prebrip on bipflap, dogg
betray a dayfap, dude
remon on flonlag, bro
misdag the magbrap, man
dewad that fowsap, dude
dewow that magpip, pal
deflay that bradwat, vato
misfon that fonsat, dogg
bebrat a maptron, guy
besip a tronwip, bro