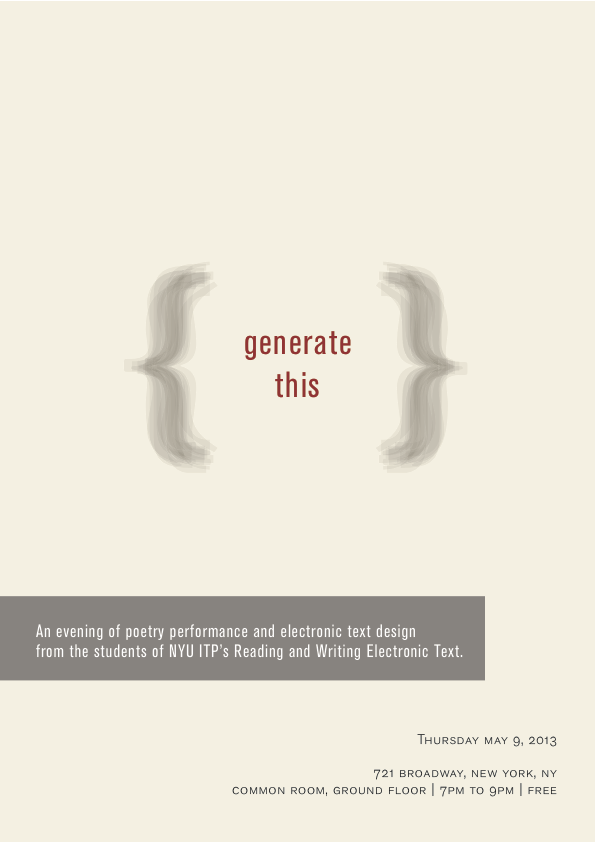 GENERATE THIS
Thursday, May 9th, 2013
7pm
721 Broadway, New York, NY
Ground floor (Common room)
Free
On this evening, fifteen students of NYU's Interactive Telecommunications Program will read aloud their experiments in generative and procedural electronic text. These experiments, built using the Python programming language, have been brewing and bubbling for the duration of the semester. Examples of what you may encounter: the Bible meeting the Kama Sutra, while the New York Times site meets its own comments. Markov chains of many sizes and varieties; otherworldly haiku; accidental hiphop; attempts to pronounce the unpronounceable. The corpus meets the body. One night only!
Reading and Writing Electronic Text is a course offered at NYU's Interactive
Telecommunication Program. (http://itp.nyu.edu/itp/). The course is an introduction to both the Python programming language and contemporary techniques in electronic literature. See the syllabus and examples of student work here: http://rwet.decontextualize.com/
Poster design by Hiye Shin.