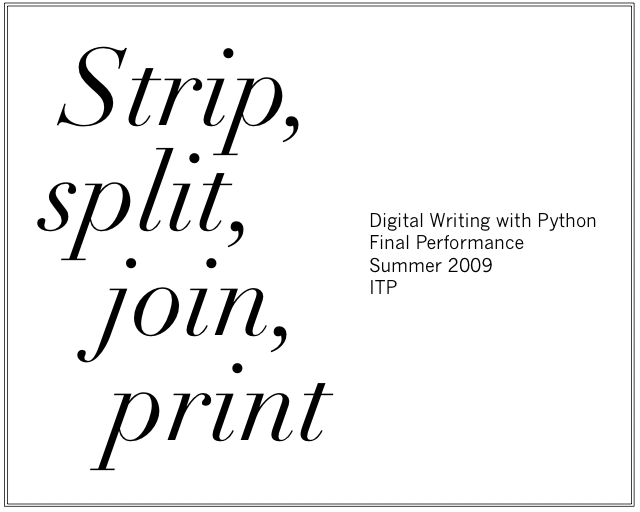 Strip, split, join, print: Digital Writing with Python Final Performance
http://dwwp.decontextualize.com/show
NYU's Interactive Telecommunication Program
721 Broadway, New York, NY
4th floor, room 447
August 5th, 2009, 7pm-8:30pm
Over the course of the Summer semester, seven NYU students have composed, mangled, generated and remixed text with their new programming language of choice: Python. Student projects under development include programs to generate Fibonacci creation myths, stochastic Walt Whitman madlibs, e.e. cummings/Twitter mashups, and new poetic forms based on Gone With The Wind.
After an intense semester, these students gather for one night only to perform their textual creations. All are welcome to this evening of experimental performances of digital writing!
Digital Writing with Python is a course offered at NYU's Interactive Telecommunication Program. (http://itp.nyu.edu/itp/). The course is an introduction to both the Python programming language and contemporary techniques in electronic literature. Students use Python to acquire and analyze digital text, while devising new techniques for composing texts by algorithmic means. The goal of the course is to experiment with language and literature while exploring the aesthetic, technical and expressive possibilities of computer-generated (and -mangled) text.
Find out more here: