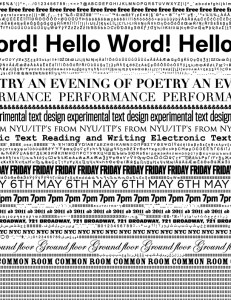 Hello Word!
An evening of poetry, performance, and experimental text design from NYU/ITP's Reading and Writing Electronic Text
Friday, May 6th 2011
7pm
721 Broadway, New York, NY
Ground floor (Common room)
FREE
Over the course of Spring semester, sixteen NYU students have engaged in intense electro-textual experiments: composing, mangling, generating and remixing electronic text using the Python programming language. For one night only, these students will gather to present and perform their experiments to the general public.
Some examples of projects that may make an appearance at the event: movie dialogue remixed in real time; dynamic newspaper blackout poetry; an endless exquisite corpse from Twitter search results; infinite generative creation myths; and much more.
Reading and Writing Electronic Text is a course offered at NYU's Interactive
Telecommunication Program. (http://itp.nyu.edu/itp/). The course is an introduction to both the Python programming language and contemporary techniques in electronic literature. See the syllabus and examples of student work here: http://rwet.decontextualize.com/
Poster design by Sofy Yuditskaya and Martin Bravo. Download a full-size version here.