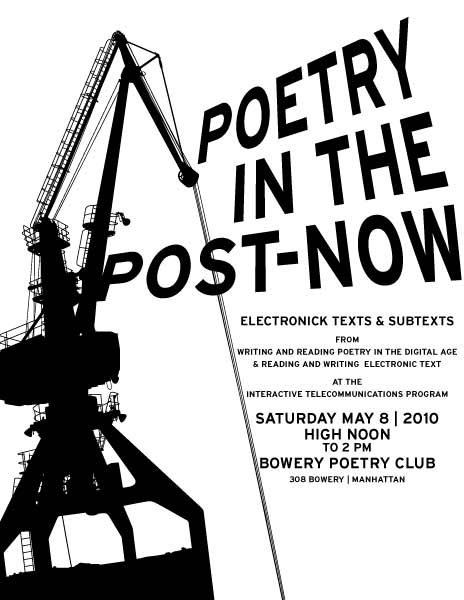 Poetry in the Post-Now
Bowery Poetry Club
308 Bowery, New York, NY
May 8th, 2010, 12pm-2pm
This is going to be an amazing event. There will be performances, demonstrations, installations and readings from two ITP classes this semester: my Reading and Writing Electronic Text class and Nancy Hechinger's Writing and Reading Poetry in the Digital Age.
This event is intended to be a showcase for the many text-, language- and poetry-driven projects at ITP, which are sometimes unsuited to the noisy glamor of the regular ITP show (which you should also attend!). I have been overwhelmed by the quality of student projects in both classes, and I'm excited to see them presented and performed.
A sampling of projects from my class: Ramones lyrics interpreted as code, Semaphore Hero, "tagrostics" (procedurally generated acrostics built from word frequency analysis), reading the Ramayana with regular expressions, procedurally generated Vogon poetry, poems composed by weather conditions, self-conversation mangled by Markov chains, physical interfaces for remixing movie subtitles, and more! It may not actually be possible for there to be a better way for you to spend your Saturday afternoon.
Here's the poster in PDF format. Promotional materials designed by Ted Hayes.