(NOTE: This project is currently out of commission as I find a new place to host it and adjust the code to accommodate recent changes in the Twitter API.)
My day 2 project is called twbasic. It's an implementation of classic, line-numbered, home computer-era BASIC that runs on top of Twitter. You can start using twbasic right now by twittering your program listing to @twbasic. Here's how to get twenty rolls of a six-sided die:
@twbasic 10 for i = 1 to val(ARG$)
@twbasic 20 print rnd(6) + 1
@twbasic 30 next i
@twbasic run 20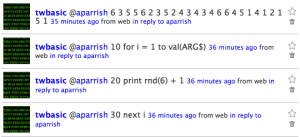 (The above screenshot depicts twbasic providing a listing of the program above, and then the results of running the code.)
A reference for using twbasic can be found after the jump.